Live Retail Display
Catch your customer's eye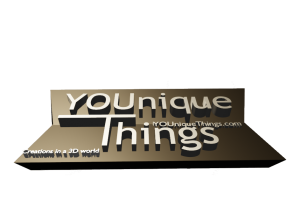 Live Retail Display
We have live retail displays centered around our newest Delta Printers. We use these machines for retail displays because they are quiet (less that 50 db), are easy to support and they are visually striking. The machines used for these displays can be controlled remotely. Most of the items they will be printing take 20 to 24 hours to complete. We will provide a minimum of 9 daily print models so there is something different to watch being created.
These printers are mesmerizing to watch as they do their "dance" and create interesting things. They are ideally suited to window displays as they catch the eye of most people going by. Because they are unusual, many people will come into the store to learn more about them.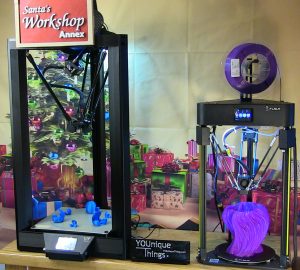 We provide:
The Printer
The Filament
The consumables required
The control files for printing
Components to allow remote access and control.
Backdrop
Samples Items for display
Information cards
Training for your staff
You provide:
Display Area – Minimum 30 in x 30 in
Unswitched 110v Electrical power with a minimum of 7 amps available.
Access to your data network
2 to 4 staff for a 30 minute training session.
Access to the display for our staff to perform maintenance and restock consumables. Normally once or twice weekly.
Fees:
Weekly Rental:
Without our branding $200
With our branding $50
Our branding is a simple Black and silver sign that goes over the control panel of the printer.
Setup fee:
Initial installation – $150
Move of display – $75